I often get this question a lot on Twitter:  "Why do you help people with English?  Are you getting paid?"   The answer is no. I'm not getting paid. I just like to help people learn English.  Here are five reasons why I like to help people learn English:
1.  It's a great hobby! – People have hobbies anywhere from watching TV, to crocheting to volunteering at a soup kitchen.  I think helping people with their English makes for a great hobby!  Especially since I'm a qualified English teacher. It just makes sense!
2.  I like to meet people from around the world. – I have made a bazillion new friends since I started helping people with their English on Twitter.  Some of them are now my FB friends and I talk to them on a daily basis.
3.  I like to learn about different cultures. – I don't know about you, but I just love learning about different cultures from around the world.  My favorite thing is when my friends from Japan tell me about different types of food they are eating and post pictures to show me.  When I lived in the USA, there were Japanese restaurants, but here in Normandy in France, there are not any Japanese restaurants, so I can at least remember Japanese food by posts and tweets from my Japanese friends.
4.  I learn about different and new technology. – I never even used Twitter before I thought about helping people learn English.  My husband suggested that it would be a good place to meet people.  So I learned all about Twitter.  Also, I've learned more about HTML and blogging using WordPress as well.  One day I would love to have live English lessons broadcast from my website. I'd have to learn how to do that first though.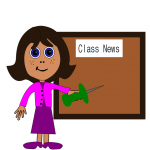 5.  I continue to grow as an English teacher. – People ask me various English questions and this keeps me on my toes!  I've learned how to teach without being face to face to someone
where they can see my hands and my facial expressions. It's difficult to do, but I think I'm learning how to do it!
So, thank you to all of my followers on Twitter, FB and on my blog.  Thank you for giving me a more fulfilling life!